CARL harvey-up close and personal
Search for "Carl Harvey musician" on the Web, and you'll find a plethora of links that attest to a stellar career. Talk to the man himself about his life and his work, and he'll tell you that the most important thing about him is: Integrity. Not fame or prowess as a musician, producer and guitar designer – integrity. 
"Being my word," he elaborates. "If I give you my word on something, it means that I intend to fulfill that. And if it's not possible, then I'll be in communication as to why it's not possible. It's important, because what else are you if you're not your word? If you're not your word, it leads to being molded by circumstances and conditions and not being the captain of your own ship." 
He also speaks of the importance of bringing "heart" to his work. 
"When we bring heart to something, it's not necessarily something that is from us. We are just a conduit. To remain open to the Universe allows us to find our greatest creativity, rather than coming at things with some kind of preconceived idea as to what things should be. I am open to the moment, whatever suggestions might come in. When we're vibrating at a particular frequency, we'll attract different kinds of influences." 
As a child in Jamaica, Carl didn't dream of a life in music. He spent a year in a military-style boarding school with the intention of going on to embrace a military career. Fate intervened when his family immigrated to Canada. His first taste of the guitar happened in boarding school when a student who owned one taught Carl to play the top ten hit, "Little Honda."
Offered music lessons by his parents in Canada, Carl chose to play drums while his younger brother Rupert (now the guitarist in Messenjah) went for guitar. When Rupert wasn't playing, Carl picked up his guitar and discovered he could play by ear. So he took lessons and worked a paper route to earn money to buy his first guitar. 
He soon found the lessons too basic, especially when a friend with a huge record collection turned him on to the blues, from both sides of the Atlantic. Muddy Water, Howling Wolf, T-Bone Walker, Albert King, B.B. King, Eric Clapton, Jeff Beck and Alvin Lee became his influences and he started to discover how to improvise. 
Then in grade nine a high-school friend introduced him to Jimi Hendrix. 
"That was it! Changed my life right then and there when I listened to Purple Haze," he laughs, remembering. 
Unaware back then of the production values that went into creating the track, he assumed that Hendrix was playing it all live. 
"And I'm like: that's what I gotta do. I have to learn to play like that!"
The move from blues and rock to reggae came mainly through the influence of Jamaican keyboard player, singer and songwriter, Jackie Mittoo. Mittoo cut his musical teeth at the legendary Jamaican recording studio, Studio One. He came to Toronto in the early 1960s, where he carved out a place for reggae in the Canadian musical lexicon. The two met jamming and Mittoo took Carl under his wing. 
Playing in a band called Sledge with Mittoo, Carl met another influence – the bass player, Franklin Harrison. Carl still played everything by ear. Harrison, who was well versed in music theory, helped to round him out. 
In the mid-to-late 1970s Carl and Mittoo went to Jamaica for 12 weeks. Carl spent a lot of studio time there, playing with the likes of Sly and Robbie and The Aggrovators. 
Back in Canada, his friend Paul Douglas asked him to sub for the indisposed guitar player in the world-renowned Jamaican reggae band Toots and the Maytals, who had a gig booked in Vancouver. Carl felt unsure, but Douglas convinced him. 
He brought his Hendrix sensibilities to the stage, playing with his teeth and with the guitar held behind his back. The next day the newspaper review spotlighted him as the band leader! 
Despite this inadvertent upstaging, Toots asked him back, and the rest, as they say, is history. With Toots and the Maytals he has played for huge audiences of 100,000+. And they opened for the Stones nine times. 
 
His 30-year career with Toots and the Maytals also saw them nominated four times for the prestigious Grammy award for Best Reggae Album. In 2005, they won the Grammy for their 2004 "True Love" album. A host of music industry stars and megastars collaborated on the album, including Carl's long-time guitar hero, Jeff Beck.  
Carl's no stranger to success and awards. But he has never let this – to him – surprising success go to his head.    
"Nothing big in my life has changed," he explains. "I appreciate the recognition, but I still take the bus. I think I've had moments of disbelief, but not really like: okay, I'm King Kong!"  
He attributes his levelheadedness to a "fairly spiritual upbringing." Like Prince, Carl was raised as a Seventh Day Adventist. His family encouraged modesty, morality, and being charitable.  
"It kind of steeps into your personality. And also life has taught me a lot of things. We're like leaves on a stream. We're always moving. And if you stop too much in that moment to be too focused on that thing that you hold so tight to… it's just going to pass."  
"At the end of the day, who are we?" he asks. "Our personality counts a helluva lot more than an object."
Carl started producing in 1977. 
Some people think I'm a perfectionist he allows. "I'm not really a perfectionist. It stands again in integrity. I can't let something slide that I know I can correct. To hear it and not intentionally correct it because of budget, time, whatever, I can't allow that. My job as a producer is to create a commercially viable product." 
His many production successes include albums for the Juno-nominated band Messenjah, and Canadian vocal group Sway, known for the huge hit single "Hands Up," on which he also played keyboards and guitar. The song earned a Canadian gold record and received a Juno Award nomination for Best Single in 1989. 
More recently, he produced the album "Spotlight" in 2017, on which he also played with his reunited Crack of Dawn Canadian funk pioneer bandmates. Then 2021 saw him produce and feature on lead guitar on Jason Wilson's Ready To Be Loved single, which rose to #1 in the Canadian reggae charts. 
"It's important to be at your best at all times. Even if it's just your best for that day. Because you never know who's listening," he shares. "When you approach things with intention and integrity, that's when you get the best results. Also, I've learned not to be too attached to outcomes. I'm committed to the project but not attached to the outcome. I've seen that ruin people's lives. People are so attached to the outcome that when the outcome they expected didn't happen, that's when they started doing 'this' and 'this.'" He mimes shooting up and snorting. 
"I'm cool with just knowing within myself that I gave it my best shot." 

Since Toots' untimely death in 2020, the band formerly known as The Maytals reformed as oBessa. Carl co-produced and performed on their soon to be released album, Solid. He also mixed four songs on the album, and sang lead on Blue For You, a song he wrote while driving through the Alps. The first single, Freedom Street, dropped in August 2022. 

Carl's experience over the years of playing with the best of the best, combined with his make-it-the-best-it-can-be attitude, led to designing and branding his own line of guitars – the tri-colour Rastacasta and the urban-camo coloured Safar-i.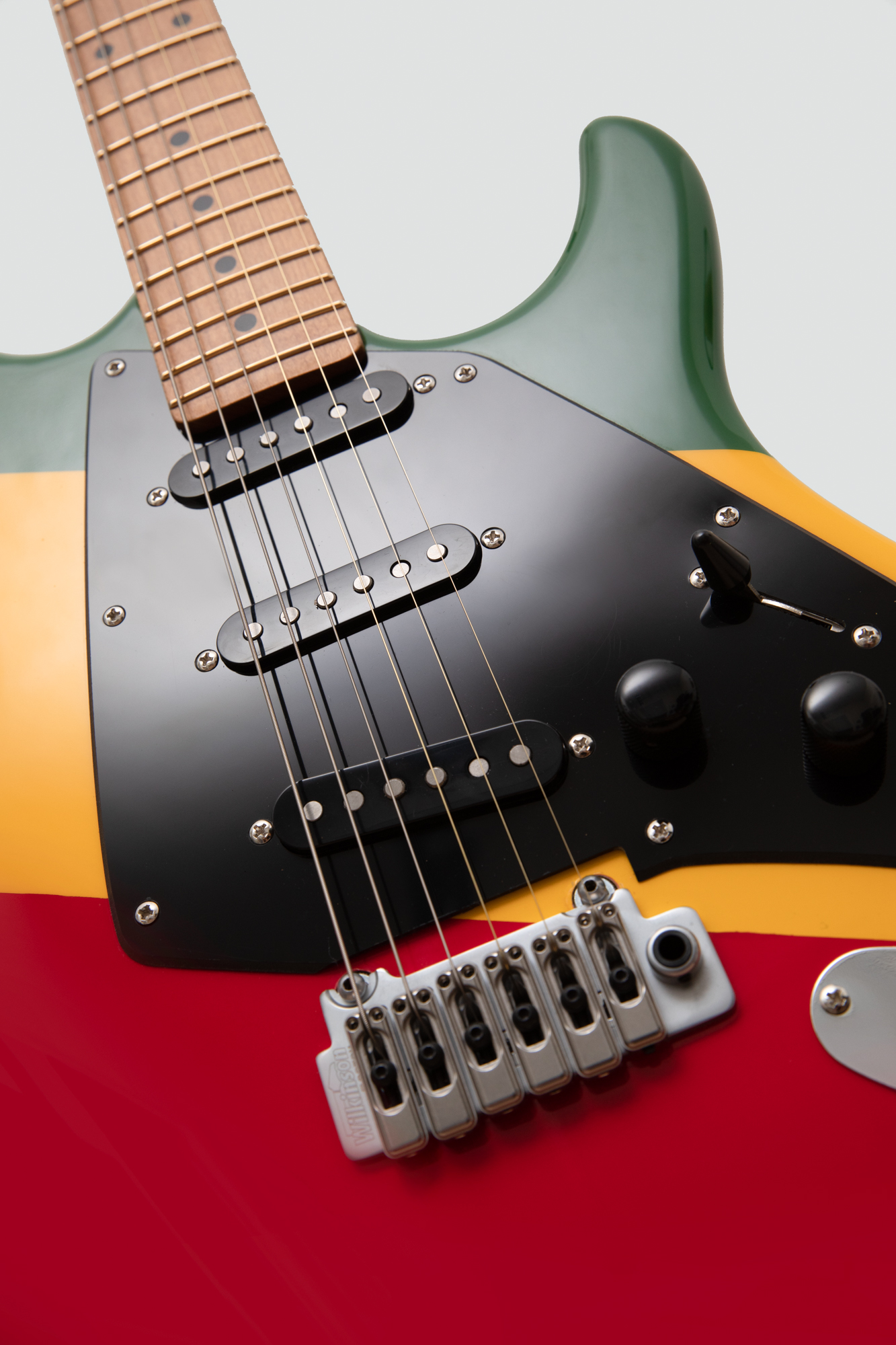 Carl named the custom-made top-of-the-line Rastacasta the "Sweet Elite," to honour the guitar builder Glenn Sweetwood and his highly reputed California company, Sweetwood Guitar, for their contribution to an outstanding instrument. Among many other features, the reinforced carbon-fibre neck makes the Sweet Elite impervious to warpage and therefore great for touring in any climate.  

A better designed version of a Stratocaster, the top-end Rastacastas boast unique, noiseless Zexcoil pickups with six individual windings, thanks to the genius of Dr. Scott Lawing, an engineer with a PhD from MIT and a 30-year penchant for playing guitar.  

The Zexcoil pickups totally cancel the hum that comes from a traditional Strat. Thoughtful design has given better fret access. And the top-notch nickel-free Evo gold fret wire never oxidizes, holding its integrity longer than standard fret wire.  

The lower-priced overseas-made Rastacastas, meanwhile, offer some noiseless positions as part of their great guitar experience. They have different wiring and offer a wider tonal range of sound than a Strat.  
"I wanted the Rastacasta to be an instrument that any Strat player could pick up and immediately feel comfortable with," Carl says.  

Then there's the recently introduced Safar-i, ideal for the rock guitarist, or something a little heavier. With a cool urban-camo colour scheme, the Safar-i has a humbucker at the bridge position to give it that Gibson sound, and uses singles for the neck.  

As for customer satisfaction, Carl says of all three models, "Anyone who's bought one so far, it's quickly become their main guitar."